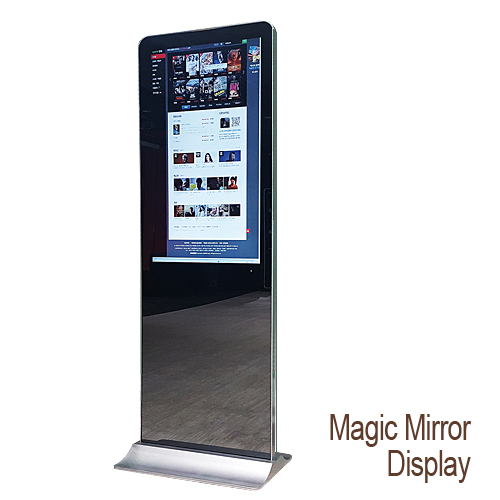 Common Application Uses
Hybrid display, integrated functions of mirror and smart signage

Mirror function : Nearly the same reflectivity as normal mirror(normal : 80%, Mirror Display : 65%)
Display function : With high light transmittance(35%), it function as a signage which displays contents and advertisement in real time.
Product Description
MMD(magic mirror display) displays contents using special reflection glass above the display panel. It is equipped with motion sensor, which displays advertisement, weather, and etc. on ordinary, but minimize the advertisement to a small screen when approached by people, to make it usable as a full sized mirror. We customize our product according to the installation environment. This model is appropriate for restroom, entrance, beauty parlor, and multipurpose facility.
Specifications
Width:
Height:
Depth:
Weight:
Power:
Operating Temperature:
Humidity:

Display Sizes
Size:
Resolution:
Available:
15"
1024x768
17"
1280x1024
19"
1280x1024
21.5"
1920x1080
23"
1920x1080
32"
1920x1200
42"
1920x1080
46"
1920x1080
47"
1920x1080
55"
1920x1080
65"
1920x1080
'
'
'
'
'
'
'
'

Features
ADA Compliant
Weather Resistant

Optional Additions
Hardened 6mm Tempered Glass
TFT LCD & Touch Sensor 22" - 82"
Touch Panel
PC (XP, VISTA, or LINUX)
Flight Case
Webcam
WiFi (Wireless Internet)
3M Logo Branding

What's in the box
Enclosure
Cabinet Keys
Power Cable