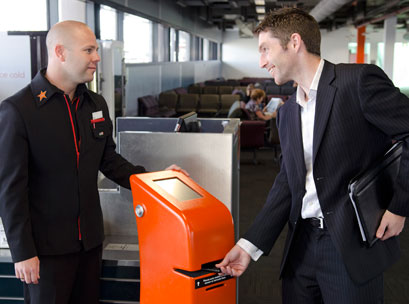 Discount carrier Jetstar has announced "100 per cent passenger self service" at check-in, completing the rollout of a world-first SMS boarding pass, Self Service Kiosks across every domestic airport in Australia and New Zealand.
And the airline says its "Automatic Check-in" means passengers "never need to worry about the check-in process again".
"Jetstar is setting a new standard in customer service at airports by making air travel even more convenient and hassle-free," the airline said in a statement. Cynics might have a different definition of "service" given Jetstar is now making passengers do everything for themselves when previously it had ground staff looking after the process.
"Jetstar has become the first Australian carrier to offer a complete and consistent self-service check-in offering through its entire 18 port domestic network via three self-service options," the statement said.
For flyers travelling on a domestic Jetstar service in Australia and New Zealand, options include:
· Web Check-in
· Airport Self Service Kiosks (now available at every airport)
· SMS Boarding Pass (new to Jetstar)
These options are provided in addition to the traditional method of checking-in at the counter.
To make the process "even easier", Jetstar has also launched Automatic Check-in, by allowing customers to pre-enrol for check-in and receive either an SMS boarding pass or boarding pass via email 24-hours before a flight.
"Removing the check-in process altogether is another example of a Jetstar innovation improving the air travel experience for its customers."
Jetstar Group CEO Bruce Buchanan said Jetstar had invested in "customer friendly and cutting-edge self service technology to transform the airport experience", maintain a high level of on time performance, and achieve ongoing efficiencies in the use of expensive airport infrastructure to keep fares low.
Around 75 per cent of Jetstar's domestic flyers use self-service options such as Web Check-in at Jetstar.com or Self Service Kiosks. In addition, the recent customer trials of the SMS Boarding Pass has increased self service uptake by another 10 per cent.
"The airport experience is rapidly changing, and in an era of more frequent, low fares travel, our customers are seeking more speed, control and ease when flying", Buchanan said.
"The full implementation of our self service initiatives is anticipated to boost uptake of self-service options closer to 100 per cent across our network.
"Delivering a 100 per cent self service platform will enable more of our Customer Service team at airports to focus on the customer.
"Our new SMS boarding passes, kiosks and automated check-in options are delivering practical and innovative solutions that will add greater control and save time at increasingly busy airports."
Jetstar customers with bags can scan their SMS boarding pass at a Jetstar Self Service Kiosk in the check-in area, collect their boarding pass, bag-tags and drop their bags at the bag drop and board their flight.
Jetstar customers without bags can bypass the check-in area and go straight to their boarding gate. This gives customers back the time they would normally spend in the check-in area.
Buchanan said the technology was different from the mobile solutions of other airlines and is a world-first because it is universally compatible with almost all mobile phones, not just high-end WAP or internet enabled handsets and doesn't require them to use expensive data roaming services.
"Jetstar's SMS boarding pass technology is accessible to virtually anyone with a mobile phone when flying within Australia or within New Zealand," Buchanan said.
"If your mobile phone can receive a text message, no matter the type of handset or plan, then you can use our SMS boarding pass technology".
To enable Jetstar to offer even lower fares, Jetstar will unbundle the use of traditional check-in facilities. This will enable us to pass on even lower fares to customers that chose to use the new self service options.
In a similar way to the unbundling of meals, baggage and other airlines services customers still wanting to use traditional check-in counters will be charged a small fee to cover the costs associated with providing this service. To give customers time to get familiar with our new self service options this fee will not be introduced until 1 November 2011. more