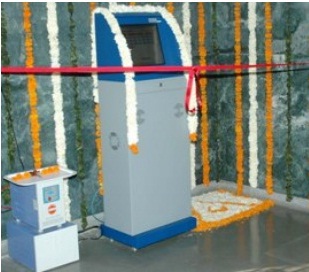 The latest step taken by the Gujarat High Court towards technological upgradation has been installation of two user friendly information kiosks in the court premises.

One kiosk has been set up at the main gate of the high court building and the otherin a block situated in the centre of the building which is being regularly visited by a large number of visitors.An official from High Court's Information Technology department said Thursday that the kiosks are made available to the public so that the litigants as well as lawyers can access their case status and case details from over one lac pending cases with the High Court.
The computers installed in the High Court kiosks display information in the same format as the Gujarat High Court website. The user is required to enter the case number, case type and year of filing to know the latest status of a particular case.

The official said that the kiosks are directly connected to the High Court server. "We have developed software that connects the kiosks to the High Court server, enabling the users to access the same information about their case details and status as they could do on internet," the official said. He added that the order as soon as is uploaded on intranet can be accessed from the kiosk.
He said the technological update would reduce the queues on Order Windows as people can access the details themselves now.

Talking further on the technological updates planned for the next few years, the official said they're planning to get wi-fi connectivity in the court premises; install case display system in the court room as well as updation of the High Court website etc. These however are subject to the approval of the concerned committee and the Chief Justice. more